October 10th, 2013 ·
Comments Off
an amazing sky in the center of Quebec
July 10th, 2012 ·
Comments Off
Am on the couch after breaking my ankle while skydiving. Inattentive landing or maybe turbulence. Not sure. Either way, I am thinking about what to do next. Or maybe I am avoiding thinking about what to do next. I am good at avoiding making plans.
May 17th, 2011 ·
Comments Off
Today I'm thinking that the world is heading towards religious conservatism, away from science and reflection, because schools don't teach art any more, and people come to believe that creativity and contemplating the unknown is elitist. Religion is an attempt to deal with the unknown, but it's so horribly managed it's depressing.
January 18th, 2009 ·
Comments Off
Vancouver. Foggy, but beautiful. I'm here to visit my dad and brothers, and a few friends. Looking forward to getting back to the studio and making something interesting happen with the photos from last year.  So a month back from Europe and I am thinking that the thing that I have come away with is to just try to keep making work. Putting the practice back into my art practice. I think I went with some expectations of making good connections and getting a gallery or an exhibition, but after not making much headway on that front, it seems I just need to do the things I like doing. Get over my ambitions for an art career and just focus on making the work. 
A purge of existing works could be useful I think. I need to do a big purge of all that art that will never be seen that's sitting in the basement of the house. Maybe there's some potential in it, but put the potential in the next work and let them go. Maybe take pictures, maybe not, but let them go.
Nancy sent me a clipping from Annie Dillard's "The Writing Life" and there's a passage in there about different writers techniques for moving on. The one that keeps coming to mind is the one where the writer rewrites everything up to the point where he/she left off, and then writes a paragraph more. Throws that away, writes the whole thing out again up to the same point, advances a paragraph, then pitches it out.
It's kind of what I've been doing with the 1819 photographs taken over the last 7 months. I've organized them 3 times now, now it's time to start throwing them out.
December 10th, 2008 ·
Comments Off
So 4 am  and there's no sign of sleep tonight. I must be getting ready for Montreal time. It would be coming up for 10 pm at home. I'll be fitting right in. I'm done with Europe for now. There's lots of interesting things here, but I am not part of them, and need to build my own world a bit more.
Enjoyed Anselm Kiefer's installation at the Louvre. I like the modesty of the sunflowers and books coupled with the over the top soo floral and occasionally decadent architecture of the Louvre. At the bottom are gold sunflower seeds. perfect.
December 4th, 2008 ·
Comments Off
In a lost moment, at the electronics store at Alexanderplatz, Berlin, I find myself photographing the photographs stored in the display cameras.  1.5 seconds of fame.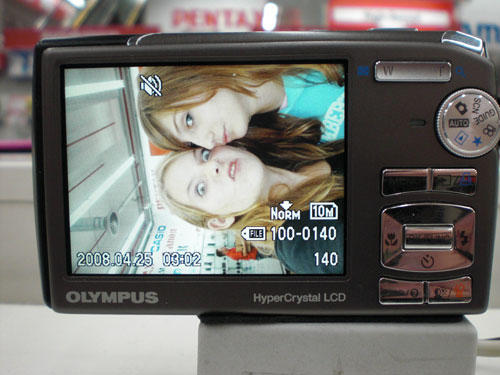 November 5th, 2008 ·
Comments Off
A performance. I made a suit of fake wood, drilled in real wood, painted on paper wood.

The text
Berlin
Eins, zwei, drei.
Guten Abend
Haben Sie Arbeit?
Ich habe keine Arbeit fur Sie.
Ich bin nicht dumm
Rotten wood and broken glass
Spilled paint on the road
Spilled paint on the sidewalk
Garbage container number 246, click
Bricks up,
Bricks down.
How many stones in the sidewalk?
Alexanderplatz will never be finished
Gray skies, bicycles with wet seats
Brakes fading
Haben sie keine augen in kopf?
Eggs on windows
This is Halloween?
Break ins
One thief or many?
One, two, three, four, it's all gone
Viertel nach acht
Architects living in a dream home
Can I make a mess here? Or here?
Nervous artists everywhere
My work is not good enough.
Darn.
Look mom,
Oh, right, I forgot
I love you mom,
I miss you
Thanks for saying GO FOR IT
I went for it.
Is it too late to come home?
Tempelhof is closing
The last DC-3,
The Berlin Airlift is over
Art fair doing a karmic cleaning on the Flughafen.
But the Drugs are still available in Hasenheide
while girls in hijabs line up for the pony rides
Drinking on the subway at 9 am
bottle held in a two finger drawl
Are you heating with cheap coal,
or the good stuff?
We have hot water heating now.
The air is cleaner but the living room is ruined
Enshuldigung
Meine deutsche ist nicht so gut
Aller anfang ist schwer
etwas schon
Danke Schone
Etwas teuer
etwas billig
ich vergesse
Haven't stepped in dog shit yet
Achtung, ENGLISCHER!
Shit sucking machines
Gas streetlights
Just like camping at home.
Bats flying around the Fernseturm
Happy Bats
Can't see the ground for the lights
My lover misses me
sometimes I go numb
Is my love good enough?
A million museums, capturing history
What to remember, what to forget
I will need to upgrade my Iphone
October 15th, 2008 ·
Comments Off
I always want to call the ideas that come into my head art ideas. In fact they are just ideas. I am thinking of  compiling a list of art ideas and presenting that as an art object. They can be classified according to poetic possibility, whether they were made or not, even whether I made them. Maybe I could add a category, describing what concept I am trying to elaborate. But that is more to justify the work than anything. I don't usually try to figure something out before I make it. I already have enough trouble making things.
Art Idea: publish a collection art ideas. If someone makes one, then I will document it, wherever it is.
Art idea: Sit in store window and drill holes in wood all day.
September 30th, 2008 ·
Comments Off
Well a bit of a pun. Went to see a couple of films featuring Paul Newman. One about him as a boxer, his first film that he wasn't embarrassed by, and another of him and Julie Andrews by Alfred Hitchcock.  A double feature at the Saint George's bookstore in Prenzlauer Berg. The 2nd film ended late though, and I just spent an hour and a half walking home in the cold rain. Glad I have a good jacket. It was OK except for the part where my pants started to get wet. 
September 29th, 2008 ·
Comments Off
29 years ago today, I made my first jump from an airplane. I still love falling through the air.